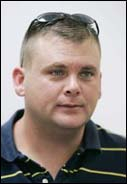 Charles Bryan
Ohio
Found Innocent
Structure Fire.
Arson Denied





A WAUSEON, OHIO, MAN WAS ARRESTED TUESDAY and charged with 14 counts of arson and insurance fraud connected with a downtown fire that destroyed seven business in April, 2007.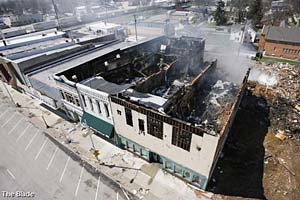 (Toledo Blade photo)

Charles Bryan was taken by Wauseon police to the Northwest Ohio corrections center where he was held until his arraignment in county court this afternoon. He was the owner of a restaurant where the fire started.

WUPW-TV Toledo has this video reporting on the arrest:
Following the fire Bryan and his wife formed a company to develop the lots where the destroyed buildings stood, promising to rebuild his restaurant and other retail spaces. A state development grant of $500,000 was approved to help pay for the $700,000 initial outlay, but several of the investors pulled out of the project earlier this year.

Suspicion was raised initially because just three months before the multi-million-dollar fire occurred there was a small fire set in the restaurant. In May, 2007, the fire marshal announced that the destructive fire was an arson.


http://truthinjustice.org/charles-bryan.htm

Article published September 09, 2010
Ex-Wauseon restaurateur acquitted of arson, fraud
'07 blaze destroyed his business, 7 others on block

By MARK REITER
BLADE STAFF WRITER

WAUSEON - A former restaurant owner was acquitted Wednesday of setting two fires to his eatery, including the April, 2007, blaze that destroyed a block of downtown businesses and caused more than $2.6 million in damages.

Charles Bryan, Jr., co-owner of the former Doc Holiday's restaurant, broke into tears as Judge Charles Wittenberg announced the verdicts clearing him of 14 felony arson and insurance fraud charges.

Judge Wittenberg, a retired Lucas County Common Pleas Court judge, arrived at his decision after listening to evidence last week during a bench trial in Fulton County Common Pleas Court.

Investigators charged that Mr. Bryan, 40, had set the fire in the office of the restaurant on April 14, 2007, and a smaller blaze in a utility room of the restaurant in January, 2007, to collect insurance money because the business was struggling.

However, Judge Wittenberg said the prosecution failed to prove beyond a reasonable doubt that there was a financial motive for Mr. Bryan to ease his financial obligations by setting the fires to collect insurance money.

Evidence presented at trial showed that Mr. Bryan owed about $440,000 to his business partner Dirk Maat, a bank, and another creditor and that he and his wife had $210,000 in additional debt in a home mortgage and equity loan, as well as a loan on a pickup truck and credit cards.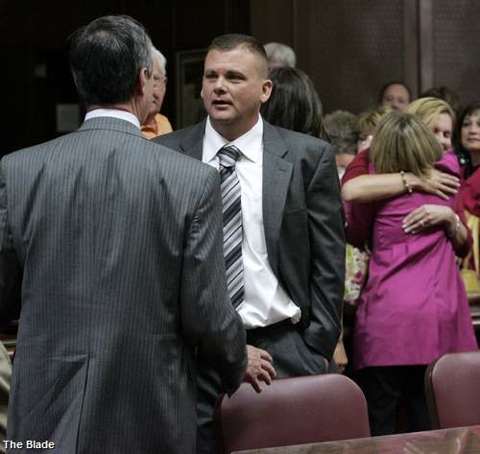 Charles Bryan, Jr. after the verdictHowever Judge Wittenberg said Mr. Bryan and his wife were current on their loan payments and were not suffering financially.



"While the defendant had large financial obligations, the evidence is that he was able to meet his obligations and there is no evidence that he was anxious or distressed or troubled about paying his debts," he said.

The fire that began in the restaurant owned by Mr. Bryan and Mr. Maat spread to seven businesses on North Fulton Street and was ruled arson about two weeks later.

A county grand jury indicted Mr. Bryan in August, 2009, on three counts of aggravated arson, nine counts of arson, and two counts of insurance fraud.

In addition to a lack of a financial motive, Judge Wittenberg said that on the night of the fire the restaurant was extremely busy and Mr. Bryan had deposited the cash receipts in the safe instead of taking them home.

He also said that Mr. Bryan went to the restaurant because of a shortage of staff and that a shower party that had been scheduled for the following day would have generated several thousand dollars of business.

After the verdicts were pronounced, Mr. Bryan hugged his attorney, Jerry Phillips, and later embraced his wife and other family members who were present in the courtroom.

Many of the family, friends, and supporters of Mr. Bryan reacted with hugs and tears to the decision.

After leaving the courthouse, Mr. Bryan said he didn't want to discuss the verdicts.

Mr. Phillips said that he was relieved for his client and his family. "This was a long ordeal and a lot of time under the gun. There were a lot of people blaming him for something the court has found that he is not responsible," he said.

Assistant Fulton County Prosecutor Paul Kennedy left the courtroom immediately after the verdicts. He could not be reached for comment.

Contact Mark Reiter at:
markreiter@theblade.com
or 734-724-6199.